Brittney & Neil's Elopement in Oahu, Hawaii
March 16, 2016 19:04
When we answered the phone to Brittney she knew she wanted to get married in Hawaii, She knew what packages she wanted so we were off to a great start... Then she said she wanted to marry next week.  
Our Wedding Bells began to ring and we immediately started to plan this last minute event at Waimanalo Bay Beach. One of our most popular Wedding and Elopement locations in Oahu, Hawaii! It also won America's #1 Beach award for 2015!!!
Brittney and Neil arrived at the beach as planned and greeted with her Haku Lei, which is a traditional Hawaiian headpiece that is becoming more and more popular again!
Pastor John performed a simple but moving ceremony as the couple stood surrounded by white and golden sands, turquoise blue waters and fresh rose petals.
We would like to give our huge congratulations Brittney and Neil! We wish you both a very long and happy life together!
Please enjoy some pictures below...
Photography by: Bret Thompsett
Read Similar Blog Posts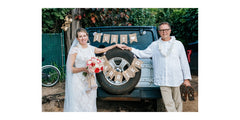 💕 Kristen & Dan said "I Do" at Tunnels Beach in Kauai - The coupled traveled to Kauai for an October Elopement and the weather was perfect for a Beach Wedding in Hawaii. The light covering of cloud acted and slight ocean breeze made for a very...
Read More