A Gorgeous Sunset Elopement in Maui, Hawaii
June 10, 2019 23:42
Sunsets are by far the most popular time to tie the knot in Hawaii - It's not hard to see why. With a little cloud in the sky, the Sunsets are always so impressive!
Chiara & Michele visited Maui all the way from Europe, Italy! They decided to get married at our popular, Oneloa Bay location. Located on West Maui, Oneloa Bay is a beautiful beach with a dramatic seascape backdrop. This location is one of our most popular West Maui Locations.
Our "I Do For Two" Elopement Package was selected by the couple which includes our In-Room Hair and Makeup, Bridal Bouquet, Groom Boutonniere, Scattered Rose Petals along with many other items and services to make your day one to remember for a lifetime!
Read Similar Blog Posts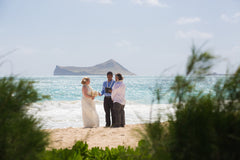 Magnificent Waimanalo Beach on Oahu's windward coast has long been the subject of Hawaiian songs and a place where lovers rendezvous. Waimanalo's allure is irresistible and the location Connie & John chose for their recent elopement.         ...
Read More