Amy & Scott Trash the Dress on Maui
June 9, 2019 22:42
Amy & Scott got married on Oahu with us and decided to extend the wedding festivities by hiring our photographer to shoot a special photo session of the couple, we call "Trash the Dress".
Amy and Scott had a blast laughing and playing in Maui's beautiful waters kicking off a memorable start to their Honeymoon. Mahalo from all of us at Married with Aloha! 
Read Similar Blog Posts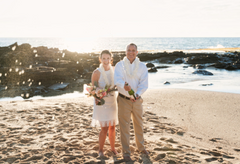 The afternoon Sun was shining, the ocean breeze rolling in off the white capped waves. It was just perfect for a beach Wedding in Hawaii! Nicole & Tim selected our Paradise Cove Beach location for their Wedding on Oahu. In true celebration, as...
Read More