Nicole & Tim tie the knot at Paradise Cove Beach in Oahu, Hawaii
September 30, 2021 11:30
The afternoon Sun was shining, the ocean breeze rolling in off the white capped waves. It was just perfect for a beach Wedding in Hawaii!
Nicole & Tim selected our Paradise Cove Beach location for their Wedding on Oahu. In true celebration, as our Officiant said "I Do" Nicole and Tim sprayed their toast towards the Photographer, which made for some great pictures. The couple opted for our Just The Two Of Us Package and had a few close friends with them to celebrate their marriage.
Have fun on your new journey together 💕
Photography by: Walker Johnson
Read Similar Blog Posts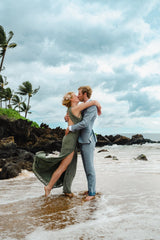 Tess and Frank from the Netherlands had an unforgettable experience at Po'olenalena Beach as they eloped in a small ceremony on the sandy shores. Tess looked stunning in a green 1920s-inspired wedding dress accompanied by beautiful orchids in he...
Read More