A LIVE Streamed Scottish Wedding on the Shores of Oahu, Hawaii
April 28, 2016 02:17
Sharron and Nicola from Scotland, UK had been planning their dream destination Hawaiian Wedding for well over a year.
Traveling all the way from Scotland the pair settled on a very simple but romantic ceremony at our Magic Island Lagoon Location in the centre of Honolulu and Waikiki.
Magic Island Lagoon really makes for a very gorgeous location for couples who want to stay near the city. It also offers great Sunsets for part of the year.
They selected our "Happliy Ever After" Wedding Package and added stunning Cascading Bouquet, Scattered Rose Petals, a Sparkling Cider toast for two and our all new LIVE Streaming.
The wedding went ahead as planned at 3:00pm without a hitch and was watched LIVE across the World by all of Sharron and Nicolas family and friends. It was a truly beautiful event.
A few days after the ceremony we were really excited to receive this letter from the couple.
Hi Will & Raquel,

Everything was amazing ... The on site coordinator was so sweet and helpful, as was Brett. They couldn't have been more helpful.

You picked the most wonderful officiant in Kalona, she was just lovely.  

The location was beautiful and we couldn't have asked for a more romantic, perfect wedding.

Thank you for all your help and as soon as we are organized I will send you some photos and give a review, of course.

Kind regards,

Sharron & Nicki
Everyone at Married with Aloha wishes you both a huge Congratulations and the very best in your future lives together.
Please enjoy the LIVE Stream of the Wedding below along with some pictures when we receive them.
Read Similar Blog Posts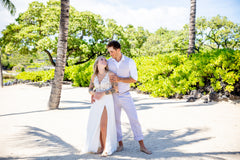 Hannah and Henry had been dreaming of their wedding day for months, and now they were finally in Hawaii, standing on the sandy shores of Kukio Beach. It was a warm and sunny day, the perfect setting for their special day. Raquel from Married...
Read More