A Beautiful & Romantic Picnic Elopement in Kauai
May 16, 2016 20:48
Let's be honest, who wouldn't want to marry the love of their life on a beautiful, tropical beach in Hawaii and then sit on the golden sands enjoying a picnic together (like the ones you see in the magazines) as the Sun sets over the beautiful Pacific Ocean on the Hawaiian Island of Kauai!
That's exactly what our latest couple Veronica and Dave did! They booked our Picnic Wedding for Two Package and selected the famed Ke'e Beach on Kauai's Northern most point to be the beach that they would marry.
It was an absolutely gorgeous day and the Bride looked stunning in her veiled dress and beautiful Hair and Makeup, the bouquet elevated her Haku Head Lei to make a beautiful Hawaii Beach Wedding complete.
With Photography, Videography and a Picnic to enjoy Veronica and Dave certainly enjoyed every second and we did too.
Everything went exactly to plan and it was all over to soon. We had such a great time planning Veronica and Daves Wedding but know the memories we helped create will last a lifetime.
We were so happy when we logged on to our computers the following morning to receive this from Veronica and Dave.
Aloha!

We had such an amazing day yesterday! Your staff was amazing and so professional they made us feel so special.

Janet did an amazing job with makeup and hair I was so happy she made me feel so beautiful and like a true bride.

The coordinator onsite was amazing, the Photographer, Videographer were so amazing as well, the Musician was incredible and the Officiant was great!

We just want to say thank you for such an amazing experience it truly was a fairy tale!

We were in love with everything, thank you for all the help thank you so much!

THANK YOU!!!!!!!!!!!!!!!!!!!!!!!!!!!!!!!!!!!!!!!!!!!
Everyone here at Married with Aloha is honored to of been part of such an important day and wish you both the very warmest Aloha for your future lives together...
Please enjoy some pictures below!
Pictures by: Joshua Rose Photography
Read Similar Blog Posts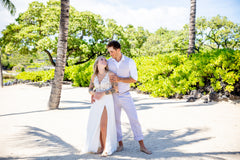 Hannah and Henry had been dreaming of their wedding day for months, and now they were finally in Hawaii, standing on the sandy shores of Kukio Beach. It was a warm and sunny day, the perfect setting for their special day. Raquel from Married...
Read More