A Beautiful Morning Wedding in Makena, Maui
April 4, 2015 11:28
We all hear about the Sunset Weddings in Hawaii and while that is the most common option for couples traveling to Hawaii for their destination Wedding a few opt for morning weddings and they are equally beautiful.
That's exactly what Mary and Donlan wanted for their Makena, Maui Wedding. They traveled from Texas to sad "I do" and they decided on a ceremony of 10:00am. While that maybe too early for many, she also opted for our In-Room Hair and Make-up which was scheduled at 7:30am!!! Luckily she was still on Texas time... Mary and Donlan selected our popular Makena Cove Location
There is something very special and tranquil about Hawaii in the morning. The sun is just warming for the day, the ocean is calm after a long night. It's actually a very beautiful time.
We all want to wish Mary and Donlan the very best and warmed Aloha's for their future lives together.
Pictures by: Ana Grodan Photography
Read Similar Blog Posts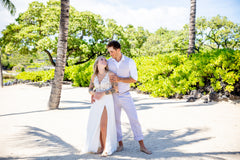 Hannah and Henry had been dreaming of their wedding day for months, and now they were finally in Hawaii, standing on the sandy shores of Kukio Beach. It was a warm and sunny day, the perfect setting for their special day. Raquel from Married...
Read More