Get Married at 10,023ft in Maui... Just like Carina and Gaius!
June 1, 2015 17:55
The majority of couples traveling to Hawaii for a destination wedding choose one of our beach location for that famous Hawaiian Sunset, however, that is not always the case. Carina and Gaius travelled from sunny (and beachy) Florida for their Wedding in Maui! 
They were eloping on the island of Maui and decided on our "Just the Two of Us" all-inclusive Wedding Package along with Mt. Haleakala as their chosen ceremony location. Those of you that are not familiar with Mt. Haleakala it rises to 10,023ft and is one of the quickest driven elevations in the World. 
At 10,000ft above the warm, turquoise blue Pacific Ocean things can sometimes get, lets say, a little chilly (for Hawaii anyway) but this didn't deter our adventurous couple... The weather was perfect. The Sun shone as it set for the day, a very important and special day for Carina and Gaius. 
Below is the message we received from the Carina & Gaius after the event...
Thank you so much Will and Raquel for everything! It was a perfect day!!! The makeup artist and hair stylist was amazing and made me look incredible. The Minister brought me to tears with the lovely ceremony.

Ana the Photographer was full of enthusiasm and did a wonderful job, it was such a beautiful location. The weather was lovely.  The whole thing was completely stress free! We couldn't have asked for a more amazing experience! Mahalo Nui Loa!!!
We all want to wish you both a huge Congratulations and the all the warmest Aloha for your future lives together!
Read Similar Blog Posts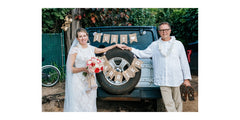 💕 Kristen & Dan said "I Do" at Tunnels Beach in Kauai - The coupled traveled to Kauai for an October Elopement and the weather was perfect for a Beach Wedding in Hawaii. The light covering of cloud acted and slight ocean breeze made for a very...
Read More