A Romantic Surprise Vow Renewal at Kukio Beach, Big Island
May 31, 2015 12:03
Every call, email or request we receive here at Married with Aloha is always different and unique. The call we received from Marcel was no different. Full of romance and ideas, Marcel wanted to surprise his wife with a Vow Renewal Ceremony at one of our most popular Big Island locations, Kukio Beach.
We emailed many times during the run up to his big day and we had everything planned down to the minute so that he could focus on popping the question! 
Rather than us tell you about it we thought it would be nice that his wife, Deana describe in her words about the event! 
"I thought my family and I were headed to a beach to get some family photos taken. My husband was very cryptic in the information he gave us :)  We got out of the condo and there was a limo waiting for us.  

Of course I was suspicious, but had no clue what he had planned. We got to the beach and there were a few people mulling about. Turns out they were the photographer and musician! Now the cat was out of the bag. Then the minister arrived and the ceremony began. As you can see from the photos, it was at a small beach with a beautiful sunset as the backdrop.

It was one of the best days of my life and a total surprise! Everything was so well organized, from the limo, location, licenses, minister, music, photographer, cake and dinner reservations afterward. He even wrote his own vows and bought me a beautiful ring. It has 3 diamonds, the larger one representing us, and the other two representing each of the kids :) No small feat to pull it off without any of us knowing about it.

It was a wonderful evening in every way and great that the kids could be a part of it. I am very lucky to have such a wonderful husband and family! Marcel certainly set a good example for our kids!

As you can see from the photos, we all had a wonderful time! 
Read Similar Blog Posts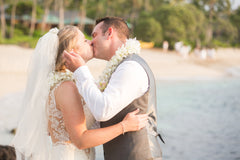 We had the pleasure of planning and coordinating everything for Jessica and Michael who traveled from Oregon, along with a small number of Family and Friends to Hawaii's Big Island to say "I do". Kukio Beach is located on The Big Islands Kohala ...
Read More