Last Minute Vow Renewal at Waialae Beach Park
June 10, 2015 20:50
We had a call from Australia. A gentleman called Bob told us that he was traveling to Oahu with his wife of 30 years very soon and would like to setup a romantic Vow Renewal whilst here and he chose Waialae Beach Park.
We set to work organizing and planning to make Bob's last minute and surprise Vow Renewal dreams come true... We pulled it off. Bob proposed to his Wife before heading to the beach to renew their vows.
Congratulations to you both, here's to the next 30 years of Love and Laughter!
Read Similar Blog Posts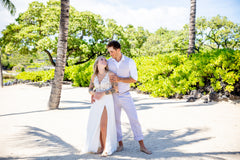 Hannah and Henry had been dreaming of their wedding day for months, and now they were finally in Hawaii, standing on the sandy shores of Kukio Beach. It was a warm and sunny day, the perfect setting for their special day. Raquel from Married...
Read More