Italy to Hawaii for a Sunset Wedding
September 1, 2015 22:18
We had the absolute pleasure of organizing a last minute Wedding for Monica and Davide who travelled from Italy to say "We Do" in Hawaii. 
They selected Kapalua Bay for the Sunset ceremony and despite a few showers earlier that day the Sun shined bright for the couple as they exchanged rings and lei's on the golden west shore of Maui.
Monica had selected our "Just The Two Of Us" package which included Hair and Makeup and Professional Photography and we have to agree with Davide, she looked absolutely stunning!
Below is a email we received from Monica and Davide a few days after the Wedding.
Ciao Will,
We're having a lot of fun here in Hawaii, we arrived this morning in Hilo and passed the entire day at Volcano National Park!

I confirm I received photos and let me say they're perfect!!!! Pete is a very talented photographer; I do not know if you've seen some yet but believe me, they're great! Also Regina was great; she made me look wonderful!

Thanks for everything, my wedding was perfect; congratulations for organizing everything with such a short time available! Of course, if you may need, feel free to use my photos; i will surely recommend you!

 
Please enjoy the pictures below...
Pictures by: Pete Swanzy
Read Similar Blog Posts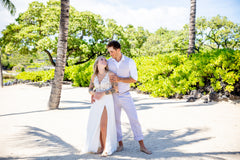 Hannah and Henry had been dreaming of their wedding day for months, and now they were finally in Hawaii, standing on the sandy shores of Kukio Beach. It was a warm and sunny day, the perfect setting for their special day. Raquel from Married...
Read More