Married in the morning at Papa'iloa Beach, North Shore, Oahu
September 8, 2015 21:57
What a gorgeous morning on Oahu's beautiful North Shore. Kelly and Samuel from New Zealand tied the knot on one of the most picturesque beaches on the island, Papa'iloa Beach, also know as Police Beach. 
Kelly and Samuel opted for a 10:00 AM Ceremony and the morning sun was shining on on the golden sands and the waters were turquoise and clear. They opted for a small, intimate Wedding with very close family members and it was a truly magical event. 
We have to say that Sunset Weddings are of course beautiful but we are certainly partial to the mornings as-well, there is just something about how calm and tranquil everything is.
Everyone at Married with Aloha would love to wish Kelly & Samuel a huge congratulations, much Aloha and the very best wishes for their future lives together!
We managed to snap a few pictures with our iPhone to share the wonderful atmosphere with you. Enjoy a few pictures below! 
Kelly & Samuel take a moment together after the vows to enjoy the beautiful, tropical surroundings.
A Kiss for the Bride - Samuel kisses Kelly for the first time as Husband and Wife!
Beautiful Views - Kelly and Samuel hold hands while getting married at Papa'iloa Beach in Oahu.
A Familiar View? Papa'iloa Beach is famed for it's roles in the hit TV Show, LOST. The beach was featured heavily for 7 years as the main "base" where the characters lived on a island waiting to be rescued.
Read Similar Blog Posts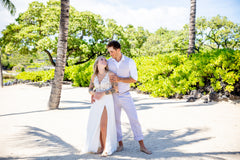 Hannah and Henry had been dreaming of their wedding day for months, and now they were finally in Hawaii, standing on the sandy shores of Kukio Beach. It was a warm and sunny day, the perfect setting for their special day. Raquel from Married...
Read More