A Morning Wedding at Hapuna Beach, Big Island, Hawaii
September 20, 2015 23:30
Mornings are beautiful in Hawaii and this morning was no different. Christen and Gilbert selected a 10:00 am Wedding at Hapuna Beach, North of Kailua-Kona on Hawaii's Big Island. 
Christen selected our "Secluded Bride" which means that Gilbert was in position on the beach as Christen arrived but they upheld tradition by not being able to see her until she walked down the aisle. We have to say she looked stunning.
The ceremony was small and intimate followed by our Wedding Cake and Toast to Love, Laughter and Happily Ever After.
Will,

We returned home late yesterday morning from our trip. Although the adventure home was rough, I can easily say that everything about the wedding and honeymoon was amazing. Everything came out perfectly... it was truly something we will always remember.

Reverend Thompson made us feel at ease by being so laid back with everything. The cake was delicious... we ate all of it over our stay. We have already received a few examples of the pictures that were taken, and we are so happy with them! It was also pretty awesome for all of the people visiting the beach that day to clap and cheer for us once we were announced husband and wife!

Thank y'all so much for everything!  From the very beginning to the very end, everything was so simple and stress free. We couldn't have asked for anything better.  Your team is truly amazing, and we will forever be grateful to have such wonderful memories of our wedding day.

Sincerely,

Christen and Gilbert
We would love to offer both of you a huge Congratulations... Please enjoy some of the beautiful pictures below!
Photography by: Malle Zablan
Read Similar Blog Posts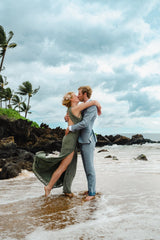 Tess and Frank from the Netherlands had an unforgettable experience at Po'olenalena Beach as they eloped in a small ceremony on the sandy shores. Tess looked stunning in a green 1920s-inspired wedding dress accompanied by beautiful orchids in he...
Read More