Vow Renewal at Kukio Beach in HAWAII
September 20, 2015 22:25
A huge Congratulations to Alan and Kayo who renewed their Wedding Vows with us at Kukio Beach, our most popular location on The Big Island of Hawaii.
Alan surprised his wife of 35 years by arranging a secret but romantic Vow Renewal Ceremony for them both. They were joined by their two children on the beach right before sunset.
Read Similar Blog Posts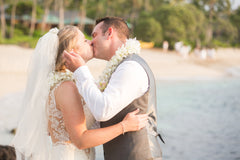 We had the pleasure of planning and coordinating everything for Jessica and Michael who traveled from Oregon, along with a small number of Family and Friends to Hawaii's Big Island to say "I do". Kukio Beach is located on The Big Islands Kohala ...
Read More