Emma & Michael: Uninvited Guest at Kukio Beach!
October 21, 2015 21:00
Over the years we have seen couples from all over the World get Married in Hawaii. It was no different for Emma and Michael who travelled from Japan (although originally they are from England, UK) to say "I Do" at Kukio Beach on The Big Island of Hawaii.
They had only planned on having one guest join them for their romantic ceremony but we're shocked to find a uninvited guest "Wedding Crashing" their intimate beach ceremony... Yes, that's right, they were lucky enough to be joined by Hawaii's famous and endangered Green Sea Turtle!
Emma selected our "Happily Ever After" Wedding Package and added a Haku "Head" Lei from our A La Carte Flowers section, which we have to say looked stunning. Rev. Patric Thompson preformed, as usually, a very relaxing and enjoyable ceremony.
Hey Will! :)

Our Wedding was really lovely! Thankyou! Patrick was a really great person we both liked his ceremony so much!

I will attach a couple of photos feel free to use them!

Thankyou again we had such a wonderful time. Great company, nice work!

 

 
It was a absolutely wonderful afternoon as the sun dropped below the Pacific Ocean. 
Congratulations to you both. Below are a couple of pictures submitted by Emma and Michael.
Pictures Submitted by: Emma & Michael
Read Similar Blog Posts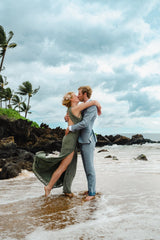 Tess and Frank from the Netherlands had an unforgettable experience at Po'olenalena Beach as they eloped in a small ceremony on the sandy shores. Tess looked stunning in a green 1920s-inspired wedding dress accompanied by beautiful orchids in he...
Read More