A Beautiful Last Minute Maui Wedding at Kapalua Bay!
November 19, 2015 19:44
Joanna contacted us needing help planning her dream Destination Wedding in Hawaii. We only had 10 days to plan it all! 
Once we had decided that Maui was the Island that the ceremony would take place on, Joanna and Peter selected Kapalua Bay on Maui's West Shore as their Wedding Location and our Just The Two Of Us Elopement Package, which included our Professional In-Room Hair and Makeup Service, a gorgeous Nosegay Bouquet followed by a meal at Merman's Restaurant, which works out perfectly for a small reception dinner as you can walk along the beach to the restaurant.
Hi Raquel! Everything was perfect!! Ana was a sweetheart and definitely took her time with us for great shots. George was a character!!

Jennifer did an amazing job I was so happy with the hair and makeup!! Thank you so much for making this happen so quickly and wonderfully!

The bouquet and the cake were both really beautiful we were very happy with how it all turned out!!!
It was an absolutely beautiful afternoon on Maui's Westside and Kapalua Bay was calm, tranquil and romantic with a personal ceremony from Rev. George Petsas into the Sunset...
They also added our Cake and Sparkling Cider Toast which included our Keepsake Cake Knife.
A huge Aloha to Joanna & Peter and all of us at Married with Aloha wish you both a very happy life together.
Photography By: Ana Grodan
Read Similar Blog Posts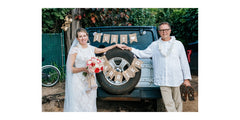 💕 Kristen & Dan said "I Do" at Tunnels Beach in Kauai - The coupled traveled to Kauai for an October Elopement and the weather was perfect for a Beach Wedding in Hawaii. The light covering of cloud acted and slight ocean breeze made for a very...
Read More