A Very Last Minute Wedding at Kapalua Bay in Maui!
December 1, 2015 22:18
When we get a call from someone on a Monday afternoon who wants to get married on that Friday (the day after Thanksgiving) we already know it's going to be a busy week!
That's exactly what Jesus did. He and his fiancé Soledad were vacationing on Hawaii's Big Island before planning to travel to Maui for Thanksgiving and then the day after get married.
Luckily we absolutely love planning last minute Weddings and Elopements. 
They hadn't planned to marry while in Hawaii but fell in love with the Aloha Spirit and decided it was the right time and the right place.
Soledad and Jesus selected our "Just The Two Of Us" Wedding Package and we got to work planning this last minute elopement. They married at our popular Kapaula Bay location with a beautiful sunset ceremony.
Dear Raquel and Will,

Thank you so very much for everything. It was a very special day and very romantic. 
Thank you very much for preparing such a very special day for us :)

Regards,

Soledad & Jesus
Everyone here at Married with Aloha and everyone involved in making their event so special wishes them both the very best and warmest Aloha for their future lives together.
Please enjoy some of the pictures from their Wedding below courtesy of our awesome Photographer Ana Grodan.
Photography by: Ana Grodan
Read Similar Blog Posts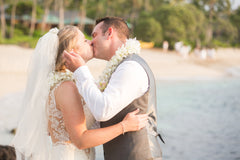 We had the pleasure of planning and coordinating everything for Jessica and Michael who traveled from Oregon, along with a small number of Family and Friends to Hawaii's Big Island to say "I do". Kukio Beach is located on The Big Islands Kohala ...
Read More