A Sunset Elopement at Waimanalo Bay in Oahu
June 13, 2016 23:50
Sarah and Nick from Australia travelled to the beautiful island of Oahu in Hawaii for a small, intimate but romantic Wedding Ceremony. 
Sarah selected our "Just The Two Of Us" Elopement Package which is by far our most popular package for the past few years.
They also decided to say "I Do" at Waimanalo Bay Beach, which won America's #1 Beach for 2015.
The Bride looked stunning in a beautiful white dress, complemented with a traditional Hawaiian Haku Lei.
Pictures By: Bret Thompsett Photography
Read Similar Blog Posts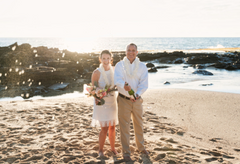 The afternoon Sun was shining, the ocean breeze rolling in off the white capped waves. It was just perfect for a beach Wedding in Hawaii! Nicole & Tim selected our Paradise Cove Beach location for their Wedding on Oahu. In true celebration, as...
Read More