A Very Romantic Sunset Elopement on Kauai's North Shore
August 13, 2017 00:37
Amber & Ryon traveled from Washington State to get married on Kauai's North Shore. They selected our most popular location, Tunnels Beach and it's not hard to see why!
Tunnels Beach is located on Kauai's North Shore and often offers a quiet beach along with a fantastic Sunset, along with surreal mountains towering over the golden sand beach.
Amber & Ryon selected this location for their Sunset Elopement. The Wedding Ceremony started about an hour before Sunset as our Officiant Rev. Wes prompted the couple in their exchange of Vows and Leis.
It was a really beautiful evening, the calm ocean waves playing the music of the ocean as Amber & Ryon enjoyed the first moments of their new lives together.
Read Similar Blog Posts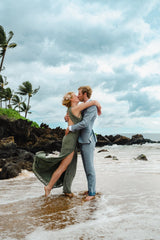 Tess and Frank from the Netherlands had an unforgettable experience at Po'olenalena Beach as they eloped in a small ceremony on the sandy shores. Tess looked stunning in a green 1920s-inspired wedding dress accompanied by beautiful orchids in he...
Read More