Nicole & Tobias: A Gorgeous Arch & Chair Wedding at Waimanalo Bay!
November 14, 2016 23:14
Nicole and Tobias said "I Do" beneath our impressive hand-tied Bamboo Arch. While friends and family filled the chairs to surround the couple with love, laughter, and happiness.
The couple selected our Arch and Chairs Wedding Package at our very popular Waimanalo Bay which is located on the island of Oahu.
Our Arch is made from all natural Bamboo and is hand-tied on-site for every event. It also includes 20 chairs for your guests to relax and enjoy your ceremony.
The ceremony started at 3:00 pm, the perfect time for a Wedding at our Waimanalo Bay Location and the weather was ideal for an afternoon Wedding ceremony.
The mid-afternoon Sun always makes the water shine a beautiful turquoise blue, gorgeous!
Read Similar Blog Posts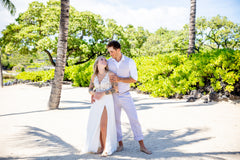 Hannah and Henry had been dreaming of their wedding day for months, and now they were finally in Hawaii, standing on the sandy shores of Kukio Beach. It was a warm and sunny day, the perfect setting for their special day. Raquel from Married...
Read More