Crystal & Adrian travelled from Australia to Elope in Hawaii
September 15, 2016 21:12
Crystal & Adrian travelled all the way from Australia to say "I Do" on Waimanalo Bay Beach in Oahu. What a beautiful event it was!
Waimanalo Beach is by far our most popular Wedding and Elopement location in Oahu and it's not hard to see why. It offers everything our couples are looking for in a Tropical Beach.
Crystal looked stunning win her gorgeous Wedding Dress complemented by her colorful red, pink and ivory Rose Bouquet and professional Hair and Makeup.
The couple selected our most popular "Just The Two Of Us" Elopement Package and added the option to include guests. Our Brides love this package because it includes so much at such a great cost.
We all want to wish Crystal & Adrian the very warmest Aloha and Congratulations! Enjoy some more picture below!
Photography by: Keani Bakula Photogrpahy
Read Similar Blog Posts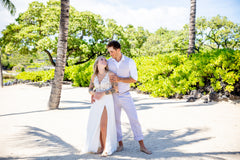 Hannah and Henry had been dreaming of their wedding day for months, and now they were finally in Hawaii, standing on the sandy shores of Kukio Beach. It was a warm and sunny day, the perfect setting for their special day. Raquel from Married...
Read More