Laura + Kyle: Tie the Knot on The Big Island of Hawai'i!
February 2, 2017 01:20
We had the pleasure of planning a last minute Elopement for Laura and Kyle while they were visiting the Big Island from Iowa. They were joined by their two little boys who watched in excitement as Mom and Dad said: "I Do"!
Laura and Kyle selected our "Just The Two If Us" Elopement Package and settled on our popular Kukio Beach location. Laura looked incredible as she made her way along the golden sands to her awaiting Groom after being pampered by our In-Room Hair and Makeup Service.
Rev. Patrick started the Ceremony with a traditional Hawaiian saying before Laura and Kyle exchanged their vows to each other. All while their two boys were watching from the wings.
As scheduled the Sun dropped slowly into the Pacific Ocean right as the Photoshoot was coming to an end.
Yet another beautiful day on The Big Island and one that this couple is sure to remember forever.
Congratulations to Laura and Kyle from all of us here at MWA!
Written By: Will Binns / Photography By: Shugyofoto
Read Similar Blog Posts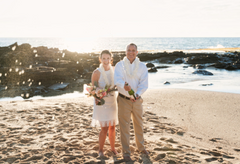 The afternoon Sun was shining, the ocean breeze rolling in off the white capped waves. It was just perfect for a beach Wedding in Hawaii! Nicole & Tim selected our Paradise Cove Beach location for their Wedding on Oahu. In true celebration, as...
Read More