Megan and Jacob Get Maui'd in the Morning!
June 16, 2016 23:53
Megan and Jacob married each other in a beautiful morning Wedding at Oneloa Bay Beach, also known as Ironwoods, which is one of our personal favorite locations situated on Maui's Westside.
The fun loving, happy go lucky couple selected our "Just The Two Of Us" Elopement Package and added a few A La Carte items to truly personalize their event.
The turquoise waves we washing up against the golden sands as the couple exchanged their vows. Megan looked stunning in her traditional Wedding Dress and added a little Hawaiian flare with a Haku Head Lei and a Cascading Tropical Bouquet.
Megan also selected our "Trash The Dress" Photoshoot so keep your eyes out for that... Coming soon!
Pictures By: Peter Swanzy Photography
Read Similar Blog Posts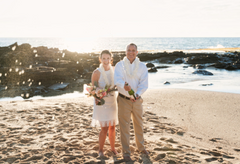 The afternoon Sun was shining, the ocean breeze rolling in off the white capped waves. It was just perfect for a beach Wedding in Hawaii! Nicole & Tim selected our Paradise Cove Beach location for their Wedding on Oahu. In true celebration, as...
Read More